The Great Bear Rainforest Explorer
The Great Bear Rainforest is a largely untouched and still wild section of the northern BC coast with an unmatched diversity of wildlife and a stunning variety of ever-changing landscapes. In the fall the coast comes alive as the salmon return to their natal streams and the elusive Spirit Bear, black bear, grizzly and wolf join in the harvest. Humpback whales and other marine mammals and birds are plentiful as the sea shares its bounty. Touring through this spectacular wilderness in a spacious and beautiful sailboat provides visitors with an intimate and uniquely personal look into the world's largest tract of intact coastal rainforest. We will walk trails, explore creeks and estuaries, see cascading waterfalls and towering mountain peaks and observe and photograph the animals that call this wonderful place home.
Ocean Light Adventures was the first tour operator offering specialized Spirit Bear viewing and photography trips in BC
2024 Schedule: The Great Bear Rainforest Explorer
Sept 12 – 19
Sept 19 – 27
Sept 28 – Oct 5
October 5 – 12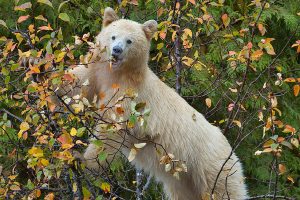 Sept 12 – 19
Sept 19 – 27 • Sept 28 – Oct 5 • October 5 – 12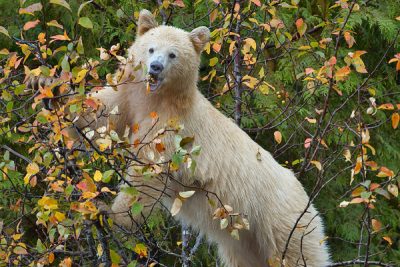 Looking Ahead: The Great Bear Rainforest Explorer 2025
Sept  8 – 15
Sept 15 – 22
Sept 22 – 29
Sept 29 – Oct 6
October 6 – 13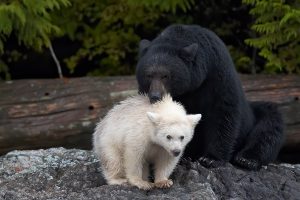 7 days, 7 nights
2025 Price: TBD
2025 Brochure available: Autumn 2024
Sept  8 – 15 • Sept 15 – 22
Sept 22 – 29 • Sept 29 – Oct 6 • October 7 – 13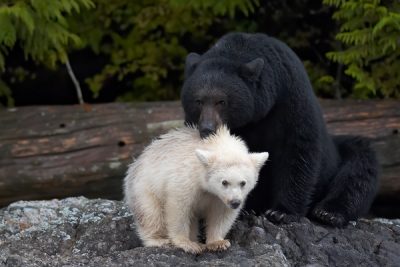 7 days, 7 nights
2025 Price: TBD • 2025 Brochure available: Autumn 2024
Background Information: The Great Bear Rainforest Explorer
The Great Bear Rainforest is nestled between the Pacific Ocean and the Coast Mountain Range on the west coast of British Columbia. Its southern boundary is just north of Vancouver Island and its northern boundary is at the point where BC and Southeast Alaska adjoin. The Great Bear Rainforest is home to thousands of species of plants, birds and animals. In this lush rainforest stand 1000 year old cedar trees and 90 meter tall Sitka spruce trees. Rich salmon streams weave through valley bottoms that provide food for magnificent creatures such as humpbacks, orcas, eagles, wolves, black bears, grizzlies and the rare white Spirit Bear.
Coastal temperate rainforests constitute one of the most endangered forest types on the planet. They have three distinguishing features: proximity to oceans, presence of mountains, and high rainfall. Their ecology is marked by complex interactions between terrestrial, freshwater, estuarine and marine systems. Close to 60% of the world's original coastal temperate rainforests have been destroyed by logging and development. The Great Bear Rainforest is one of the largest contiguous tracts of temperate rainforest in the world. And, it is the ONLY temperate rainforest left on earth which is fully intact, i.e., with all members of its complex ecosystem still present!
Terrestrial and marine systems in BC's coastal rainforest zone are inextricably linked. The forest reaches out to the sea, which in turn furnishes the wind and rain necessary for maintenance of the forest. This exchange of nutrients and energy between ocean and forest creates the base for an extremely complex food chain, and one that is rich enough to support a huge number of migratory and resident species.
Wild salmon are the most important keystone species for coastal rainforest ecosystems and grizzly, black and spirit bears depend on healthy salmon runs for their survival. Wild salmon are an important food source for a wide array of other wildlife and organisms as well. Even the trees of ancient temperate rainforests on the coast utilize salmon – bears and other wildlife drag carcasses of spawned out salmon into the forest, which facilitates a nitrogen transfer into the forest soil and ultimately into the towering trees.
The fight to save the Great Bear Rainforest has been a long battle. In 2006 the government of BC made a promise to protect one third of BC's globally unique Great Bear Rainforest and to develop the foundation for a local conservation-based economy. In 2009 this promise was fulfilled, but still it left a full 70% of the region totally unprotected from industrial logging, mining, and other resource extraction proposals and projects. In 2016, the Great Bear Rainforest Agreement ushered in a new era of forest management, with a priority to protect its ecological and cultural integrity. However, it hasn't been fully implemented or regulated and in 2020 we still see road building for resource extraction. Fortunately the trophy hunting of grizzly bears was stopped in late 2018 but the fight continues to stop the sanctioned hunt of other large carnivores such as bears and wolves. Tanker traffic in our waterways transporting both liquified natural gas and diluted bitmen, open net cage salmon farms, seismic testing for oil and gas reserves and unsustainable fishing practices remain some of the immediate threats to the marine environment.  Tankers carrying LNG are set to be travelling through the heart of the Great Bear and through the very waters where humpback and fin whales congregate. Environmentalists and concerned citizens will keep up the fight to ensure the essence of the Great Bear Rainforest is preserved.
Scientists and conservationists on the regional, national, and international level continue to promote the value of saving the last intact and fully functioning coastal temperate rainforest. Saving the majority of the Great Bear Rainforest has not only safeguarded the stunning biological diversity of the region but has also helped (through the absorption of huge quantities of carbon for photosynthesis) offset the effects of the carbon-releasing activities of mankind, thus slowing the process of global warming.
The Spirit Bear
The Great Bear Rainforest is the home of the rare and almost mythical Spirit Bear – a white-phased form of the American Black Bear. The subspecies of Black Bear found within the Great Bear Rainforest is Ursus americana kermodei – the Kermode Bear. All the black bears in the Great Bear Rainforest (of any coat colour) are Kermode Bears. But not all Kermodes are white – only the rare Spirit Bear possesses the white coat.
Spirit Bears are not albinos. The white coat colour is caused by a recessive gene and only those bears with two copies of the gene (one inherited from the mother and one inherited from the father) have white coats. Bears that possess one copy of the recessive white coat gene and one copy of the gene for a "normal" coat have typical black coats and are carriers of the trait. The white coat colour of Spirit Bears can theoretically be found in Black Bears anywhere, but they are exceptionally rare in all parts of the Black Bears' range. The one exception is on a small portion of the British Columbia coast, where, for reasons that are only poorly understood, between 10 and 20 per cent of the bears are white!
After years of exploring and touring the Great Bear Rainforest, Ocean Light II Adventures has found regions where Spirit Bears can be seen relatively reliably. Seeing, and possibly photographing, these exceptionally rare bears is a joy only very few people on planet earth will ever know. It can truly be listed as a "once in a lifetime" experience!
FAQ about our Great Bear Rainforest Explorer
Are there good photographic opportunities on your standard tours or do I have to go on a photo tour to get good chances to capture great images?
origin
2023-11-15T17:43:25-08:00
All of our tours offer excellent photographic opportunities. Our photography tours are very similar to our standard tours but to accommodate the additional gear of photographers – and to maximize shooting angles from our inflatable boat – they are limited to fewer participants (normally 6 clients plus the photography guide).