Mothership Kayaking in Gwaii Haanas
Mothership Kayaking is the latest and greatest choice for those looking for the adventure and challenge of kayaking along with the comfort and decadence of staying aboard the Afterglow I. We travel in style and comfort on the Afterglow I to new locations and each day you will be given the opportunity to kayak along the spectacular British Columbia coastline – amongst the wild islands and along the magnificent shores with expert guides. You'll enjoy delicious home-cooked meals and a warm, dry bed will await you each night.
Your week of mothership kayaking aboard the Afterglow I will give you access by boat and by kayak to the best Gwaii Haanas National Park (South Moresby) has to offer – from abandoned Haida villages such as T'anuu and Ninstints, to the magnificent Pacific northwest rain forest, to intriguing natural history displays, such as busy sea lion haul-outs and colourful intertidal areas.
Ocean Light Adventures offers the only fully guided mothership kayaking expeditions in Gwaii Haanas
2024 Schedule: Mothership Kayaking
Contact Jenn for pricing and availablilty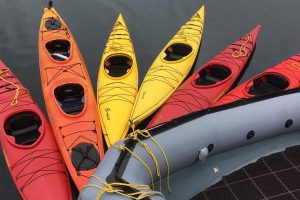 Contact Jenn for pricing and availability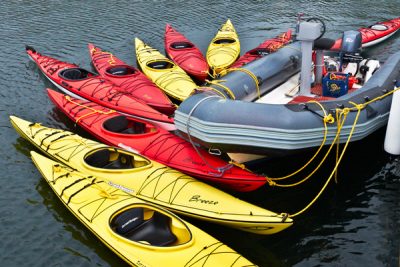 Looking Ahead: Mothership Kayaking 2025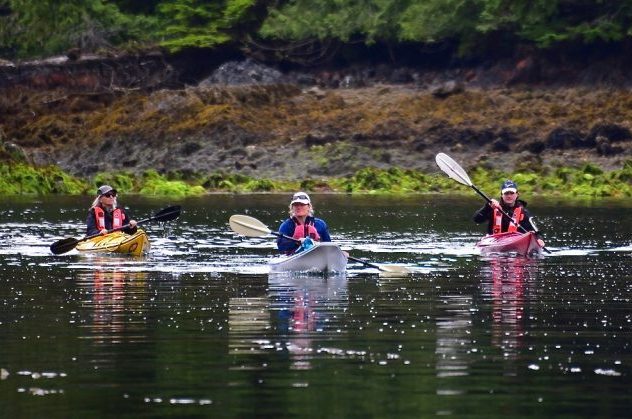 8 days, 8 nights
2025 cost TBD
2025 Brochure available: Autumn 2024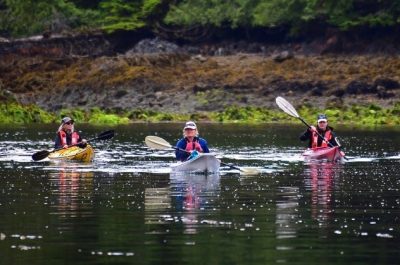 Dates TBD • 8 days, 8 nights
Price:  TBD  • 2025 Brochure available: Autumn 2024
Background Information: Gwaii Haanas Cultural and Natural History
Haida Gwaii (formerly known as the Queen Charlotte Islands) is a long chain of islands off the northern coast of British Columbia. It has a very rich cultural and natural history and offers much to intrepid explorers!
Cultural History and Significance
Haida Gwaii sits about 120 km off the shores of the BC Mainland and is a place where land and sea are woven into Haida culture. Gwaii Haanas, a national park at the southern end of Haida Gwaii, is a wilderness of over 1800 islands and inlets. The San Cristoval Mountains form the backbone with peaks up to 1200m in height. Gwaii Haanas is surrounded by 1700 km of shoreline, on the west coast surf batters the rugged shoreline and the gentler east coast offers more protection.
Haida Gwaii is believed to have been a crucial place along the migration route of the first peoples inhabiting North America from Asia more than 10,000 years ago. During that time, sea level was 150 m lower than today and the Hecate Strait was a grassy level plain connecting Haida Gwaii to the mainland.
Haida culture evolved living within the natural limits of the environment generation after generation. The Haida had a respect for all living things and this was demonstrated by the resiliency of the forests, fish and oceans. The land of the Haida was generous and the seas offered food in abundance and variety. The huge cedar trees were the life blood of the people supplying them with clothing, houses, utensils, baskets, fishing line, carved canoes and heraldic poles. It was not until the last century of European settlement and industrial development that the land and seascape was significantly altered.
The oldest known site of Haida occupation was unearthed on the shores of Gwaii Haanas and there is archeological evidence that fishing and ocean gathering activities took place more than 6000 years ago. When Europeans first arrived they found thousands of Haida living throughout the islands in villages of large wooden houses. These thriving villages were decimated by diseases such as smallpox that were introduced by the Europeans. By 1860 less than 1000 Haida survived and they regrouped in the northern villages of Skidegate and Old Massett.
Today, the National Park, Gwaii Haanas is jointly managed by Parks Canada and the Haida. The Haida started the Watchmen Program, in which Haida people live at the major village sites during the visitor season. Like their carved namesakes, the Watchmen protect the now-deserted but still fascinating and culturally significant villages of their ancestors. These villages still bear the totem and mortuary poles of the past residents as well as the remnants of their longhouses and other dwellings. One ancient village on Sgang gwaay Island has received international recognition and is now known as Ninstints Unesco World Heritage Site.
In relatively sheltered bays, estuaries and heads of inlets you may see a forest green blanket of long blades of grass just under the surface. These eelgrass meadows are more common on the eastern side of Gwaii Haanas and are critical habitat for a large number of living things, including many species of fish (salmon, rockfish, herring, cod and more) which use these areas as nurseries. And, these species of fish act as forage for many other species, including Great Blue Herons, black bears and other small mammals.
Once one moves just offshore and away from the land/sea transitional zones there are an equally diverse number of habitats which help foster species diversity. On the beds of sand, mud, and gravel seaweed is common down to a depth of about 20 meters, and many species of small fish depend on the seaweeds for both food and shelter. Subtidal sandbeds provide critical habitat for Pacific sandlance and various flatfishes (including sole, flounder and halibut). Invertebrates living in the sediments include butter clams, horse clams, shrimps and tubeworms.
While the terrestrial regions of Gwaii Haanas are dominated by temperate coastal rainforest, the sea possesses its own forest – the kelp forest. These forests are considered to be one of the most productive ecosystems on the planet. In the Gwaii Haanas marine area the kelp forests extend from the lower intertidal zone down to approximately 10 meters (about 33 feet). Many animals, such as abalone, inshore rockfish, kelp crab and sculpin spend the majority of their lives within the kelp forests. Other species, such as salmon, sablefish, and herring take advantage of kelp forest shelter during the early stages of their life.
The diverse assemblage of marine mammals draws many visitors to Gwaii Haanas. A full 20 species of cetaceans (whales, dolphins and porpoises) are known to use the waters of Gwaii Haanas. In spring and summer humpback whales are often seen along the east coast. White-sided dolphins in pods of up to several hundred may be encountered. Both resident and transient orcas (or killer whales) can be seen traveling, feeding, and spy-hopping. Minke whales, Dall's porpoises and harbour porpoises are frequently seen. Fin whales can be seen off the southern tip of Gwaii Haanas and on the west coast the lucky spotter may see humpback, sperm and even blue whales. Harbour seals are common and elephant and fur seals less so, Steller and California sea lions can be seen in big numbers. Although currently extremely rare, it is also possible to a sea otter!
Natural History – The Galapagos of the North
• About 750,000 seabirds breed within Gwaii Haanas
• The highest number of eagle nests per kilometer of shoreline in Canada occur here
• The highest breeding density of Peregrine falcons in the world are in Gwaii Haanas Park
• Gwaii Haanas harbours the largest breeding colony of Steller Sea Lions on the west coast
• Burnaby Narrows in Gwaii Haanas contains the highest levels of living material of any intertidal zone in the world
• Grey, Humpback, Minke and Orca whales all inhabit the waters of Gwaii Haanas
• Fin whales may be encountered off the southern tip of Gwaii Haanas
• Sperm and rare Blue whales may even be encountered (most commonly along the western coast)
• The land contains a minimum of 39 distinct sub-species of plants and animals found nowhere else on
earth, including 7 endemic mammal species and 3 endemic bird species
• 15 species of stickleback fish inhabiting Haida Gwaii are found no where else on earth
MARINE ECOSYSTEMS – STUNNING DIVERSITY!
• 2503 species of invertebrates
• 400 species of fishes
• 344 species of seaweed
• 125 species of birds
• 43 species of lichens
• 37 species of mammals
• 4 species of seagrasses
• 1 species of reptiles
FAQ about our Mothership Kayaking
Do I really have to stay within the suggested weight restrictions for my baggage?
origin
2023-11-15T17:44:33-08:00
Yes we request that you stay within the suggested weight limits. We choose to use float planes to transport our guests to and/or from the boat but the planes have weight restrictions. Our fresh food is also brought in on the float planes. The Afterglow I, while being spacious, is still a boat and storage space for extra gear is always limited. Please follow the list of suggested clothing and equipment carefully and remember your stay on board is just 3 or 7 days. If your gear exceeds the weight limit it may get left behind or you may be charged for an extra float plane!